Yesterday Apple announced their latest technological offering – the iPad – which is something between a phone, a laptop and an e-reader. Like all Apple products it looks extremely slick and shiny, and will certainly be popular with Apple enthusiasts, probably overtaking Amazon's Kindle e-reader before too long.
As someone who enjoys reading (very slowly) and travels quite a bit, never quite knowing which country is really our home, the idea of having all our books on an e-reader -type device is quite appealing (especially with ever-increasingly airline luggage fees). In principle I like the idea of being able to read content – books, magazine, blogs… from a tablet, which is specialised for reading.
However, the problem with the iPad is a frustratingly familiar one when it comes to Apple's business model. Everything is controlled by DRM, or Digital Rights Management – which basically means that even after you buy the device, and any content, Apple still controls exactly what you can and can't do with the device and content.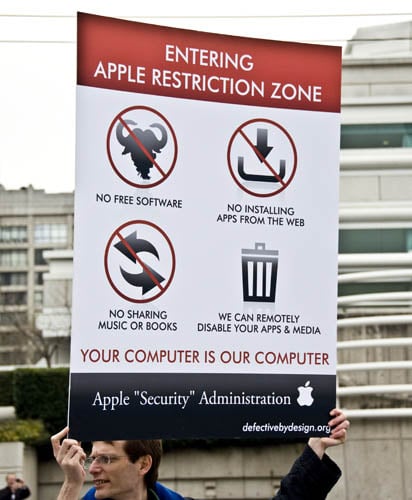 Image: theregister.co.uk
The same thing happened with DRM music from the iTunes store, which has only recently become DRM-free (following years of criticism, and competition from DRM-free Amazon). My friend Andrew posted a link to this concise summary of the issue a couple of years ago: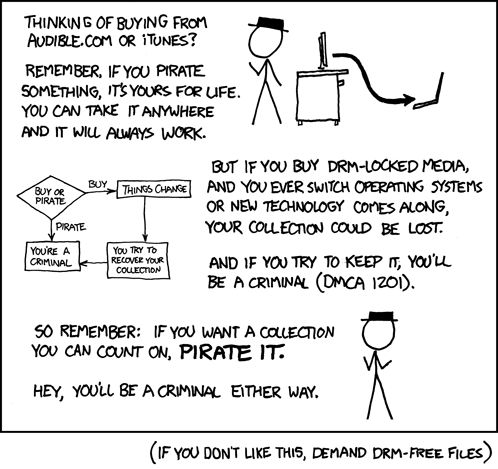 Image: xkcd.com
Lifehacker has this to say about DRM in the iPad:
What's dangerous about the iPad is that it's much closer to a "real" computer than the iPhone is. If you dock it with the keyboard accessory, it really is just a laptop, probably powered somewhere along the lines of a MacBook Air. And yet this is a computer over which you have absolutely no control. And the question is: If we all continue to buy Apple's locked-down products hand-over-fist (Jobs went so far as to talk about Apple as a mobile device company yesterday), what reason does Apple have not to keep moving forward with that model—a model that, to many, is defective by design.

Apple's saying to consumers: "Trade in choice for a guarantee that this will work exactly as we designed it to, and you'll never be upset with a computer again." Unfortunately there's no reason to believe the trade is necessary. At the very best, it seems like Apple's extreme and obsessive control over what you're allowed to run on the iPad, iPhone, and iPod touch is maybe delaying the point at which your software demands outpace the hardware, but even that's is debatable. With the iPad, iPhone, and iPod touch, you're trading choice and control in exchange for unsubstantiated promises. read more
As I said before I love the concept of electronic e-readers, the problem is in the proprietary software and media formats. When you buy a book you read it, lend it, and keep it on your bookshelf to read again or just browse through in 20 years time. If it's really good it might inspire someone else in 50 years.
DRM media is designed for you to read now. You can't lend it to someone else. You can't even transfer it to another device that you own. If you upgrade to a different device made by another company, you lose your content. And there's no guarantee that your proprietary format will be readable in 5 years, let alone 50.
If the iPad follows the iPod, Apple will make billions from selling the iPad to Apple enthusiasts and others who like its slick appearance, other companies will produce their own versions, and then eventually everyone will agree on a format that can be played and transferred between any device. While not entirely open and transparent, the mp3 format for music functions in this way to a great extent – once you buy an MP3 player and music you can do what you like with them, provided you don't break copyright rules.
The iPad is the latest fashion in our culture of instant gratification and short-term thinking. I'll be waiting for an open source version where I know what I'm buying, and I know that the device and content belongs to me and isn't still owned and controlled by a multi-billion dollar company.